At times, I wonder if it is when we are the farthest from au courant that our true nature appears. Those times when we are with least control of our countenance, somehow sans complete awareness, whether a medicated fog, twilight sleep, concussion. Those times. Are perhaps when realness has the best chance of finding its way into the light.
It was not my first surgery, yet the first time I'd ever experienced the actual stages of general anesthesia, as I was dancin' pretty tight with death during my only other experience and have no memory of it. I should have expected something strange. My mother has awakened from anesthesia during every surgery she has ever had. Fully conscious. Moving and talking with the surgeons. Yet in no pain. No fear. She asked for pie during her hip replacement. And asked the surgeon would he be so kind as to play Bob Seger instead of Huey Lewis and The News. I should have expected something.
It took an enormous amount of medication to shut me up. I talked well into the prepping and draping. I asked if they were going to use 5 mg of Versed IV push. The OR staff laughed. I asked if they would be using cautery for hemostasis, or would I have sutures? Would they be 5-0 plain catgut or Ethibond? More laughter. They asked me to count backward from 100. I made it all the way to 45.
I awoke while I was still in the OR. Just as they removed the mouth gag used to keep a patient's mouth opened during oral surgery. I began talking immediately. I asked if everything went okay. I asked if there were any complications. I asked if the surgical tech was married. And then told him he was a quite beautiful man, and were I not married, I would like to recite Invictus for him over coffee.
"Do you know Invictus?" I asked. "Everyone knows Invictus!"
"Ma'am, you're going to be really sorry in about 15 minutes if you don't stop talking now." He replied.
My husband was waiting in the recovery room as Mr. Beautiful wheeled me in.
"She's all yours, bro." Sigh…. and so Mr. Beautiful walked out of my life forever.
That is when things began to get wonky. As I saw my husband, I immediately became acutely terrified that my children were not okay. I was overcome. Completely overcome with panic. I made him call home to make sure.
I then remembered the man lying in the bed next to mine before I was taken to the OR. I remembered listening to his conversation with the nurse about his injuries and the surgery he was going to have. And suddenly, I became overwrought with worry about him. I began to cry. With sobs. I asked the nurse if he was okay, if his surgery went well. I needed to know.
"The man! The man with the broken leg. Is he okay? Please find out if he is okay!"
"The woman! The one in the other bed, in the wheelchair. Is she okay? Did her surgery go well? I need to know!"
The nurse asked if I had pain. I was talking and crying and panicked.
But I did not have pain. No twinges of sharpness from my macerated throat. No burning. No roughness one would expect when vocal cords vibrate so close to the abraded skin where one's tonsils had just been.
I asked for my jewelry. My nose hoop and tongue bar. I replaced them in their respective holes.
My husband stroked my hair as he choked back his laughter. I could see the nurse hiding hers behind a clipboard.
The Ativan began to soothe my pulsing neural pathways, acumen slowly edging above hyperlucidity.
I felt a bit silly. Just a bit.
For the self-proclaimed queen of nihilistic misanthropy, to lose myself with worry for two strangers, whom I only saw and heard in passing, perhaps Henley was far more valiant than I. The menace of my years certainly seems to be finding me more and more daunted within the mire of the human condition than I would ever freely concede.
An empath, I am not. Yet sentience is inherent. As it is with humans all. And is it not a requirement for the most effective masters and captains to, at the very least, have a fondness for their people? Anything less would be a dictator.
I went home and ate a cheeseburger. And pretended I needed the Roxicodone syrup shit just so I could get high.
All in all, it was a pretty good day.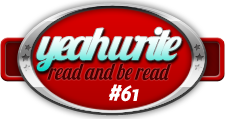 ________________________________________________________________________________